Green ICT Innovations
Submitted by Matt on Thu, 10/11/2012 - 19:35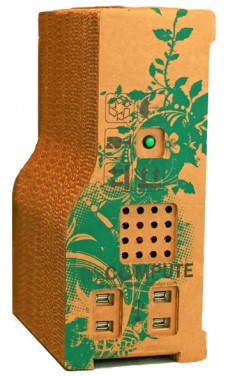 Companies and individuals are advancing innovative ideas for more sustainable. These range from products we can buy today to futuristic concepts for tomorrow. Our most recent addition to this post a pc with a cardboard case.
Recompute's family of PCs are housed in corrugated cardboard cases and built to the company's philosophy of Full Life Cycle Design. Interesting insight into materials: "The ignition point of cardboard is very high, higher than most of the plastics used in traditional computer hardware design. Recompute cases have been tested safe to over 400F/200C. Most of us don't think anything of putting a cardboard pizza box in the oven, or boiling hot coffee in a paper cup, yet the internal components never reach a temperature higher than an oven or boiling liquid."
Wandular is a 2025 concept device from Sony Europe's FutureScapes initiative made of wood, recycled steel, and high-tech components.
"Wandular is a multi-purpose, modular device that grows with the user over a lifetime, generating a similar sort of affection and sense of personal connection as a favourite watch. A cloud-based, thin client modular approach enables a long product life span, whilst ensuring the user enjoys the latest software and hardware upgrades.
Modular add-ons will allow devices to be physically upgraded with everything from projectors to motion sensors and energy generation modules. This means the device can be personalised and its lifespan extended. Local 3D printing of modules using recyclable materials could satisfy users' thirst for novelty and customization whilst minimising the environmental footprint. This will also enable a closed loop system for adding new hardware to the device.
Integrating more emotionally engaging design elements provides a stronger connection between the user and the physical object, making it appealing over a longer time period."
More:
Check out other innovations and basic research by clicking on the 'FutureTech' tag at the top of this post.
How wearable tech is driving Green ICT innovation.
Images courtesy of Sony, Recompute