Green ICT Innovations
Submitted by Matt on Mon, 12/02/2013 - 14:59
Companies and individuals are advancing innovative ideas for more sustainable products. These range from products and services available today to futuristic concepts for tomorrow. A 3-D printer made out of of African e-waste is the latest - watch the video.
Crowding funding site Ulule features a 3-D printer made from recycled e-waste targeted to cost less than $100. The W.AFATE project is the brainchild of Togolese entrepreneur Afate Gnikou.
We've covered many examples of PV solar used for ICT in remote areas developing economies, but it can be applied everywhere. The New York Times reports in June 2013 that telecom service provider AT&T's "…25 solar-powered charging stations will sprout in parks, beaches and other outdoor spaces in [New York City's] five boroughs, part of a pilot project from the wireless provider in partnership with the city. The stations — 12.5-foot steel poles with three petal-shaped solar panels fanning out on top — can accommodate up to six devices at a time regardless of wireless carrier, with dedicated ports for iPhones, Androids, BlackBerrys and standard USB charging cables…If successful, AT&T could expand to other cities. The project will cost $300,000 to $500,000…Three 15-watt panels and a 168-watt-hour lithium ion battery pack can keep the stations operating through the night or five days without sunshine. The stations will allow a user to fill a smartphone in two hours, or grab a 30 percent charge in 30 minutes." We've noted in other posts the environmental problems caused by diesel-powered telecom and there is a tie-in here. "The spark for the project came after Hurricane Sandy, when AT&T supplied diesel generators and cell towers on wheels to hard-hit neighborhoods…"
Image courtesy of Pensa, which designed the stations.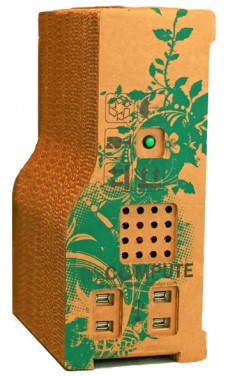 Recompute's family of PCs are housed in corrugated cardboard cases and built to the company's philosophy of Full Life Cycle Design. Interesting insight into materials: "The ignition point of cardboard is very high, higher than most of the plastics used in traditional computer hardware design. Recompute cases have been tested safe to over 400F/200C. Most of us don't think anything of putting a cardboard pizza box in the oven, or boiling hot coffee in a paper cup, yet the internal components never reach a temperature higher than an oven or boiling liquid."
Wandular is a 2025 concept device from Sony Europe's FutureScapes initiative made of wood, recycled steel, and high-tech components.
"Wandular is a multi-purpose, modular device that grows with the user over a lifetime, generating a similar sort of affection and sense of personal connection as a favourite watch. A cloud-based, thin client modular approach enables a long product life span, whilst ensuring the user enjoys the latest software and hardware upgrades.
Modular add-ons will allow devices to be physically upgraded with everything from projectors to motion sensors and energy generation modules. This means the device can be personalised and its lifespan extended. Local 3D printing of modules using recyclable materials could satisfy users' thirst for novelty and customization whilst minimising the environmental footprint. This will also enable a closed loop system for adding new hardware to the device.
Integrating more emotionally engaging design elements provides a stronger connection between the user and the physical object, making it appealing over a longer time period."
More:
Check out other innovations and basic research by clicking on the 'FutureTech' tag at the top of this post.
How wearable tech is driving Green ICT innovation.
Images courtesy of Sony, Recompute