The Scope of eWaste in Latin America
Submitted by Matt on Tue, 11/11/2014 - 16:10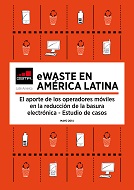 GSMA has published a report and a couple of infographics about e-waste in Latin America. The infographics are displayed in full, below. This report is sign of growing Green CT awareness in the region.
The full report - GSMA's May 2014 report "eWaste en América Latina- is published in spanish, but an executive summary and one of the inforgraphics is available in english. Here are some highlights.
"In Latin America, e-waste...will grow 17.5 per cent in the next years, from 4.22 kilotonnes in 2012 to 4.96 kilotonnes in 2015,"
"GSMA Intelligence counts 632 million mobile connections in the region and 319 million unique subscribers (Q3 2013). A huge number of people own mobile devices, which have an obsolescence cycle of 3 to 5 years...Therefore, it can be expected that most of the mobile phones on the market today will be e-waste in 2018."
"...countries in Latin america lack legal frameworks related specifically to e-waste management. ...compared to european countries... legislation in Latin american countries lacks comprehensive, coordinated and collaborative schemes."
"...in 2013, Telefónica Movistar Ecuador processed 112,321 obsolete mobile phones, accessories, batteries and chargers from their users. In Brazil, the mobile network operator Oi
is investing USD10 million in five recycling plants belonging to Descarte Certo. In 2012, Descarte Certo collected 43,782 mobile devices, batteries and chargers from Oi customers. In Brazil, TIM, Vivo and Oi collected 90.6 tons of WEEE in 2012. n Uruguay, mobile network operator Antel has donated a wheelchair to each person or institution that gathers 25kg of e-waste. In Panamá, Telefónica Movistar collected 44,500 obsolete artefacts and seeded 52,000 trees in exchange. In Mexico, ANATEL (the National Telecommunications Association) started a program to combine the efforts of mobile network operators to improve and audit the reverse logistics needed to manage e-waste created by the mobile industry."
Note in the second infographic that Brazil is projected to generate almost a third of the region's e-waste in 2015.
(More about GSMA and Green ICT.)